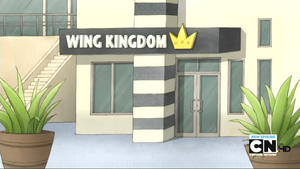 Wing Kingdom 
is a restaurant that is frequently featured in
Regular Show
.
Appearance
The exterior of Wing Kingdom is white and there is a "Wing Kingdom" sign with a crown is at the top of the door. There is a beam with black and white stripes between the door and window. The interior has many booths and tables, and the manager is located near at the entrance. There is also a restroom.                                                                    
Food/Drinks
Fried Chicken Wings (regular, spicy)
Fried Chicken
Gold-Plated Chicken
Diamond Chicken
Ice Cream Sundae
Special Sauce (also comes in diamond encrusted containers if requested)
Soda
Big 50 Special (comes crispy or crunchy)
Games
Bank Shot: Wing Kingdom has a bank shot game that was featured in the episode of the same name.
Pool table: Wing Kingdom has a pool table where a group was playing it in "Bank Shot"
Challenges
Wing Kingdom Wing Challenge: This was a challenge first mentioned by Pops in the episode Guy's Night. Muscle Man is the only known person to complete this challenge. It can be assumed the challenge involes eating a certain large amount of chicken wings.
Staff
Episode Appearances
Season Three
Season Four
Season Five
Season Six
Season Seven
Season Eight
Gallery
Community content is available under
CC-BY-SA
unless otherwise noted.