This article is under the scope of the Actor Cleanup Project and has yet to be cleaned up to a higher standard of quality. It may contain errors, spelling, grammar and structure issues, or inconsistent formats. Reader's discretion is advised until fixing is done.


You can help clean up this page by correcting spelling and grammar, removing factual errors and rewriting sections to ensure they are clear and concise, and moving some elements when appropriate.


William Lewis[1] Salyers (also known as Bill Salyers)[2] (born August 16, 1964)[3] is a voice actor for Regular Show, voicing Rigby.
Early life
William Lewis Salyers was born in Bartlesville[3] and grew up in Pawhuska, Oklahoma[1] and graduated from Pawhuska High School in 1982.[1] He then attended college at Central State University, majoring in Communications.[4] He would then attend and eventually graduate from College of Santa Fe in 1987, majoring in Theatre.[1] He would play his first voice-over role as Reverend Putty on the Adult Swim show Morel Orel.[5]
Career
After Morel Orel ended, he auditioned to play the role of Rigby on a new project entitled Regular Show, even booking the gig himself.[6] He described the original audition like this: "I didn't know anyone connected to the project. I wasn't even sure what the copy meant, to tell you the truth: 'Two ties! You don't know what I'm throwin' NEXT, baby!' I mean, what the hell does THAT mean? Devoid of context, I didn't know if the line referred to neck ties, railroad ties, or light S & M. The character seemed brash, though, a little goofy and wreckless [sic], so that's the energy I went with. I got called back and read for J.G. [Quintel] and some other important folks, then booked the Cartoonstitute pilot, which was released on YouTube. A LONG time passed, and by the time the call came, I had written it off. SO glad they went with me."[6]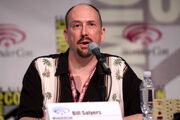 When the pilot was greenlit to be a series, he had to do a final audition to be the character in the show. He was asked in an interview if hamboning ever truly saved his life, and Salyers replied it did at the audition: "Well, in a manner of speaking, yes. The episode you're referring to was the script that J.G. [Quintel] and the casting director had me read when I was called backed [sic] to my final audition for the part of Rigby. I got so caught up in the scene, I actually started slapping my chest like I was hamboning. That was completely stupid, because you're never supposed to make extraneous noises in voiceover; they add stuff like that later, with SFX. My enthusiasm must have counted for something, though, because I got the role, and since it's the best thing that's ever happened to me, you could say that hamboning saved my life."[5]
Salyers states his character's fatal flaw is sensitivity. "Rigby's greatest flaw is his sensitivity. He seems brash, but that's only because he gets hurt so easily."[6] Salyers has stated if he chose one episode as his favorite, it would be "Eggscellent".[7] When an interviewer told him he found a movie he was a part of on a wiki, Salyers sharply replied, "I have a wiki?"[5]
Outside of Regular Show, he has also voice acted in Call of Duty: World at War and in Mass Effect 3 as Mordin Solus.[8]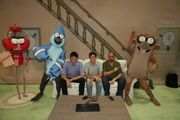 Voice credits
This section may be incomplete
Season 1
Season 2
Season 3
Season 4
Season 5
Season 6
Season 7
Season Eight
Personal life
He resides in Los Angeles, California,[1] with his wife[9] Nancy[10] and his step-son[10] Ian, who he claims is an inspiration when reading Rigby's lines.[11]
External links
References
Regular Show Voice Actors
Community content is available under
CC-BY-SA
unless otherwise noted.