"USA! USA!" is a Regular Show short released by Cartoon Network on July 6, 2015. It features the "Places of the World" song from SDCC 2014.
Plot
The short begins with Mordecai and Rigby raking leaves. After Mordecai tosses the bag full of leaves into a bin like a basketball into a net, the two begin to chant "USA!" over and over. Suddenly, Benson arrives, and suggests that they try a different chant, telling Mordecai and Rigby that there are other countries besides the United States. Mordecai and Rigby tell Benson that they do know other countries, so they decide to prove it.
They decide to do it through a rap song explaining some of the countries of the world and what they're famous for.
Once they're done, Mordecai and Rigby arrive back at the park, and Mordecai asks Rigby how many countries they went to. Rigby replies by saying that they went to all of the countries in world. Moments later, Benson arrives and chastises that Mordecai and Rigby left the park chanting "USA!", and nobody saw them for THREE months. Just as the two begin to explain their knowledge of other countries, Benson interrupts, and tells them to start working. He also tells them to get rid of a penguin who was following the duo during the song.
Characters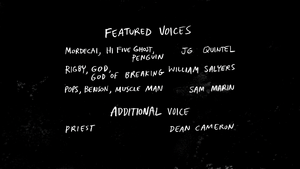 Trivia
This short episode has been released 2 days after 4th of July or it's Independence Day in the USA.
The following places are seen or mentioned in the episode: USA, Canada, China, Ireland, France, Mexico, Australia, Japan, Germany, Brazil, Dubai (UAE), Switzerland, Antarctica, New Zealand, England, Iceland, Greenland, Finland, Netherlands, Poland, Thailand, Swaziland, South Korea, Costa Rica, Indonesia, Puerto Rico, Saint Vincent and the Grenadines, India, Chile, Peru, Portugal, Italy, Singapore, Trinidad, Slovenia, Ghana, Papua New Guinea, Madagascar and Turkey.
The hairy feet gag in New Zealand is a reference to The Hobbit movies, which were filmed in New Zealand.
The fortress seen in Puerto Rico is known as the Castillo San Felipe del Morro, one of Puerto Rico's biggest attractions located in the capital of San Juan.
The Ceiling Dude is actually a depiction of God from the famous painting in the Sistine Chapel, the "Creation of Adam" by legendary artist Michelangelo.
The Lion Fish is actually the "Merlion", the mascot of Singapore's tourism board and a cultural icon.
The Crazy Looking Bird seems to actually be the Blue Bird-of-Paradise, one of the loveliest birds in the world and one of the many Birds-of-Paradise native to Papua New Guinea.
Ever since Mordecai and Rigby visited Antarctica, the penguin they rapped to followed them to every other country. It manages to find a good hiding spot.

It can also be seen leaning against a wall in the next short, Fun Run.
References
Community content is available under
CC-BY-SA
unless otherwise noted.