Jurassic World: Dominion Dominates Fandom Wikis - The Loop
Play Sound
This article is under the scope of the Actor Cleanup Project and has yet to be cleaned up to a higher standard of quality. It may contain errors, spelling, grammar and structure issues, or inconsistent formats. Reader's discretion is advised until fixing is done.


You can help clean up this page by correcting spelling and grammar, removing factual errors and rewriting sections to ensure they are clear and concise, and moving some elements when appropriate.

Toby Jones (born March 31)[1] is a former storyboard artist for Regular Show. He is currently the supervising director of OK K.O.! Lakewood Plaza Turbo.[2]
Early life
His hometown is Fargo, North Dakota.[3] In 1998, as a child, Toby was interviewed on local access television about an "animated series" he made.[4] He would then attend the Minneapolis College of Art and Design, majoring in Filmmaking, for four years.[5]
Career
He was hired to work on Regular Show in a rather unusual way: a frustrated J.G. Quintel was looking for storyboard artists and desperately made a tweet via his Twitter account, stating "looking for board artists". Jones tweeted back and emailed Quintel via Facebook, interested in doing a storyboard test for the show. Quintel gave him one, and he passed the test.[6]
Jones further elaborates what he did before being hired and how it's like to be on one of his favorite shows: "About six months ago [article was written on May 17, 2012] I was living in Minneapolis [Minnesota] and working at a movie theatre to [barely] make ends meet while devoting my free time to comic and film projects. I was a big fan of Regular Show and never missed an episode. One day I noticed a post on J.G. Quintel's twitter that said 'I'm searching for board artists for Regular Show. neeeeeed [sic] more [story]board artists' and figured I may as well give it a go. I sent him some samples of my comic and film work and he liked them enough to send me a storyboard test. Then I got the job and moved to LA [Los Angeles, California]! Thank god. To say I'm 'living the dream' would be an understatement. I never imagined I'd get an opportunity to work on any show, let alone one of my absolute favorites."[7]
Jones has stated his biggest challenge is coming up with fresh ideas: "Freshness is extremely important to me when it comes to working [on] the show. It can be tempting to fall into old patterns — 'That got a laugh five pages ago and I'll do that again.' I don't like doing that ever. I would try something a little weirder or something strange. Sometimes that works and sometimes that doesn't. But the important thing is freshness!"[8]
His other works includes comics for Memory Foam, Good Minnesotan, Ghost Comics and FORT90.[7] Toby also made a short for Cartoon Network, entitled A.J.'s Infinite Summer.[9]
In 2016, Jones co-produced and developed the Cartoon Network mobile game OK K.O.! Lakewood Plaza Turbo with creator Ian Jones-Quartey. The following year, it became a full series. He serve as the supervising director on the show.
Boarded episodes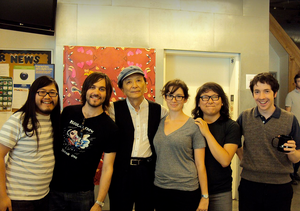 Season Three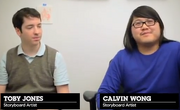 Season Four
Season Five
Season Six
Season Seven
Voice credits
In addition to storyboarding, Jones has also voice acted on the show, providing the voice of the Cart from the episode "Out of Commission", which he also storyboarded with Calvin Wong,[10] using his natural voice.[11] Jones also said that someone more famous was originally going to voice the Cart, but did not specify who.[12]
Season 3
Personal life
He resides in Los Angeles, California, dating[13] and living with fellow Regular Show storyboard artist Madeline Queripel,[14] with their dog Willoughby.[15] He has a sister, named Hilary.[16]
External links
References
Regular Show Storyboard Artists
Regular Show Voice Actors