Wiki Targeted (Entertainment)
Play Sound
This article is under the scope of the Actor Cleanup Project and has yet to be cleaned up to a higher standard of quality. It may contain errors, spelling, grammar and structure issues, or inconsistent formats. Reader's discretion is advised until fixing is done.


You can help clean up this page by correcting spelling and grammar, removing factual errors and rewriting sections to ensure they are clear and concise, and moving some elements when appropriate.

Sean Patrick Szeles[1] (born April 26,[2] 1981)[1] is a supervising producer, former supervising director, outline writer, former writer and storyboard artist and occasional voice actor for Regular Show. On Regular Show, he composes and sings most of the show's songs: Party Tonight (later re-sung by J.G. Quintel),[3] Summertime Loving, Loving in the Summer (Time) and its tape, and more. During season four, Szeles was promoted to helping with story outlines, alongside J.G. Quintel, Mike Roth, John Infantino, Matt Price and Michele Cavin, leaving it uncertain if he will continue storyboarding.[4]
Early life
Sean Patrick Szeles was born on April 26, 1981 in San Diego, California.[1] Before getting into animation, he was a pizza deliverer, which he claims was "a lifelong dream of mine" and was "pretty fun".[5] He graduated from CalArts, earning a bachelor's degree in Character Animation.[6]
Career
After graduating, he helped animate such series as The Buzz on Maggie, Where My Dogs At?[6] and El Tigre: The Adventures of Manny Rivera.[5] Eventually, he would work for Cartoon Network, on such shows as The Marvelous Misadventures of Flapjack.[7]
In an interview, when asked about guest stars, he answered: "We pursue them, just because a lot of times, I like his [Paul F. Tompkins'] comedy. His [Paul F. Tompkins'] wife is actually the voice of Margaret, Janie Haddad Tompkins. A lot of times when I'm writing an episode I'll go 'oh, he'd be great in this part, JG, we've got to get Paul F. Tompkins!' He's [Paul F. Tompkins] really funny. Other people, like the rap episode, we just thought it would be really cool if we could get real rappers to come in who were good at this, so we just tried to get people like Tyler the Creator and Donald Glover because I like their music. They said yeah, I think they were fans of the show, so they auditioned. That was really cool."[8]
Szeles has also recently made a short for Cartoon Network, entitled Long Live the Royals[9], which was later developed as a four parts miniseries.
Boarded episodes
Season 1
Season 2
Season 3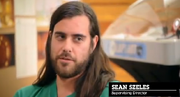 Season 4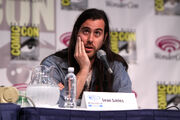 Voice credits
As mentioned above, Szeles occasionally voice acts on the show, usually as characters that have great singing ability. For unknown reasons, he is not credited for voicing Summertime Song in its appearances.
This section may be incomplete
Season 1
Season 2
Season 4
Season 6
Season 8
Personal life
Besides his work on Regular Show, he has a brother named David, who was married to a woman named Carla Dee, and the duo had two children, Everett and Elsa. Carla Dee would pass away on March 28, 2012 after battling cancer.[10]
He resides in Los Angeles, California.[11]
External links
References
Regular Show Storyboard Artists
Regular Show Voice Actors