This article is under the scope of the Actor Cleanup Project and has yet to be cleaned up to a higher standard of quality. It may contain errors, spelling, grammar and structure issues, or inconsistent formats. Reader's discretion is advised until fixing is done.


You can help clean up this page by correcting spelling and grammar, removing factual errors and rewriting sections to ensure they are clear and concise, and moving some elements when appropriate.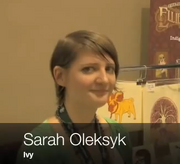 Sarah Kate Oleksyk[1] (pronounced Oh-lek-sick)[2] (born September 19,[3] 1977)[4] is a storyboard artist for Regular Show. She grew up in Portland, Maine and would later move to Portland, Oregon.[2] Other areas Oleksyk has lived in include Providence, Rhode Island, Boston, Massachusetts, New York, Seattle, Washington and San Francisco, California.[2] Her last name is of either Polish or Ukrainian origin.[5]
As a child, Oleksyk wanted to be a cartoonist, developing her style by making autobiographical comics.[6] She eventually began reading graphic novels, explaining the plots as: "Japanese comics about the atom bomb dropping on Hiroshima, [Art Spiegelman's holocaust epic] Maus, pretty much really freaky human-atrocity stuff. That's what I was into back then."[7] She wrote in her journal while in high school, inspiring her future graphic novel Ivy.[8] She continued cartooning while in college, something that was looked down upon and wasn't taught at the college at the time.[6] She graduated from Parsons School of Design in New York,[4] majoring in Illustration.[6] She worked the graveyard shift at a Kinko's (now known as FedEx) for two years.[4] She is 5'6".[9]
One day she was riding her bike at the west end of Burnside Bridge, seeing a police officer riding a motorcycle, ramming a cyclist who did not follow instructions. Oleksyk recounts: "I was really upset. I shouted, 'What are you doing?' I didn't swear. I didn't threaten. I didn't get into anyone's face. Next thing I knew, I was being ground into the sidewalk. It was brutal."[4] Eventually, she ended up in a police van for three hours; meanwhile, according to her, the police rolled her bike off the bridge and gave it to strangers. She was charged with disorderly conduct and interfering with a police officer, which is a $2,600 violation. Oleksyk would then sue the officer and the two met in court. The case was ultimately dismissed.[4] This experience made Oleksyk realize she could live more responsibly and didn't need to be in the "front lines of political conflict" by using art to express her thoughts. "Subliminally, I'll work my magic behind the scenes."[4] Since the incident, she has worked on comics for companies such as the Girl Scouts of America,[10] Oni Press Inc and The Copacetic Comics Company.[11]
In an interview regarding her graphic novel Ivy, she pointed out the trend of likable characters in comics: "I hope that comics readers develop a taste for challenging characters. It's a trend in comics to have beautifully misunderstood protagonists who the reader can completely relate to, but I feel as though a story about someone you don't quite understand, or even like, can teach you more about yourself and your relationship to others. It puts you in another person's shoes and gives you perspective you might not have gotten."[12] She is a two-time Eisner Award nominee.[13] She was nominated at the Oregon Book Awards in the category of "Graphic Literature", a category that had been created that year. Her graphic novel Ivy was her nominated work. However, she did not win the award.[8][14] She was also nominated for a Russ Manning award.[15]
She was hired to work on Regular Show after J.G. Quintel bought her graphic novel,[16] Eisner Award-nominated[17] Ivy, being asked if she would like to take a storyboard test. She accepted and took the test.[18] Oleksyk decided to study up and watch as many Regular Show episodes as she could, and concluded she enjoys the show: "Luckily, I think it's an amazing show. It's really up my alley in terms of humor and sensibility."[19] She began with the episode "Pie Contest" with fellow newcomer Hellen Jo.[20] Oleksyk later left the show to work as storyboard director on the Nickelodeon series Sanjay & Craig. She now works at Star vs the Forces of Evil.
She resides in Burbank, California.[21]
Boarded Episodes
Season 4
Season 5
Season 6
Links
References
Regular Show Storyboard Artists
Community content is available under
CC-BY-SA
unless otherwise noted.