Doctor Strange in The Multiverse o Madness - The Loop
Play Sound
This article is under the scope of the Actor Cleanup Project and has yet to be cleaned up to a higher standard of quality. It may contain errors, spelling, grammar and structure issues, or inconsistent formats. Reader's discretion is advised until fixing is done.


You can help clean up this page by correcting spelling and grammar, removing factual errors and rewriting sections to ensure they are clear and concise, and moving some elements when appropriate.


Samuel David "Sam" Marin (born March 4, 1984)[1] is an American animator[2] and one of the principle voice actors on Regular Show, voicing Benson, Pops and Muscle Man. He began voicing Pops and Benson in the pilot, and then voiced Muscle Man in "Just Set Up the Chairs" onwards. Marin also voiced numerous other characters, a list of which can be viewed below.
Early life and career
He met J.G. Quintel at CalArts, being in the same class, and the two became friends. Marin would help Quintel on his student films, such as The Naive Man from Lolliland and 2 in the AM PM, even voicing characters in the aforementioned films, starting his voice acting career.[3]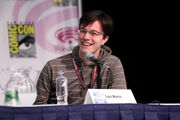 Regular Show
As stated above, Marin voices three central characters: Benson, Pops and Muscle Man. Marin's voice for Benson's is very similar to his regular speaking voice, only angrier and more stressed. With Pops, Marin needs to make his voice as high-pitched as possible, while still sounding lovable. Finally, with Muscle Man, Marin tries to sound annoying and disgusting, sounding as loud and obnoxious as he can. Marin's favorite episode of the show is "Eggscellent".[3]
Other work
Aside from his work on Regular Show, he has voiced Clarence and Gareth on Adventure Time[4], Celestabellebethabelle in Gravity Falls and Old Man Langtree in the mini-series Over the Garden Wall.[2]
Voice credits
Season 1
Season 2
Season 3
Season 4
Season 5
Season 6
Season 7
Season Eight
Personal life
He resides in an undisclosed location, drawing in his free time.
External links
References
Regular Show Voice Actors