This article is under the scope of the Actor Cleanup Project and has yet to be cleaned up to a higher standard of quality. It may contain errors, spelling, grammar and structure issues, or inconsistent formats. Reader's discretion is advised until fixing is done.


You can help clean up this page by correcting spelling and grammar, removing factual errors and rewriting sections to ensure they are clear and concise, and moving some elements when appropriate.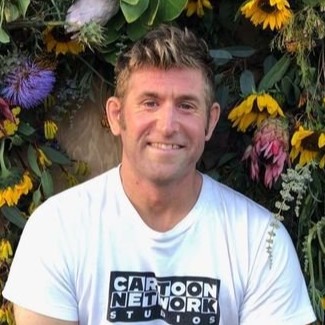 Paul R. Scarlata[1] (born April 19, 1973)[1] was a storyboard artist for Regular Show. He grew up "in a suburb outside of Boston",[2] and would eventually attend the Rhode Island School of Design, majoring in illustration and had animation as an elective.[2] While in college, he was offered an internship for a then-unknown studio, and would turn it down, citing the need to make-up extra credits so he would graduate on time. This unknown studio would turn out to be Pixar, and Scarlata considers this to be the worst career move of his life.[2]
After college, he decided to work in animation, and would soon be hired to work on King of the Hill, where he would remain for the next several years. After leaving the show, he worked on other series such as Family Guy and American Dad!.[2]
In addition to his work on these shows, he would work on Regular Show as a storyboard artist in the first season. During production of season 2, he switched to a storyboard revisionist, and has been in this position until the end of the show. He is currently storyboarding on a new Netflix animated series, Big Mouth.[2]
He resides in Los Angeles,[3] California living with his wife, Elisa Chu[4] and his family.[2]
Boarded Episodes
Season 1
Season 2
Links
References
Regular Show Storyboard Artists
Community content is available under
CC-BY-SA
unless otherwise noted.