Jurassic World: Dominion Dominates Fandom Wikis - The Loop
Play Sound
This article is under the scope of the Actor Cleanup Project and has yet to be cleaned up to a higher standard of quality. It may contain errors, spelling, grammar and structure issues, or inconsistent formats. Reader's discretion is advised until fixing is done.


You can help clean up this page by correcting spelling and grammar, removing factual errors and rewriting sections to ensure they are clear and concise, and moving some elements when appropriate.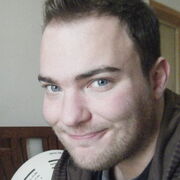 Owen Dennis (born in 1987)[1] is a director, illustrator, composer, animator, musician, writer and a storyboard artist for Regular Show.[2] Owen grew up in Minnesota,[3] where he would attend the Minneapolis College of Art and Design,[4] majoring in Animation.[5] It was in college where he met his future coworkers, Madeline Queripel and Toby Jones, who also attended college at MCAD.[6] While in college, he briefly served as a game tester for Blizzard and Activision.[7]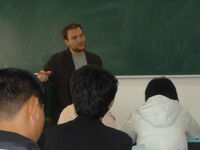 During college, he was hired to work at Yellowstone Park as a housekeeper, staying there for the summer of 2008.[8] He then moved to China in 2009 to work as an English teacher, teaching his students the English language and occasionally American culture,[9] first teaching at Shenzhen Foreign Language School,[10] a high school in Shenzhen, and later moved to Shanghai to teach college students[11] at Gench College,[12] while also taking Chinese[13] and Mandarin classes to learn more of the country's language.[14] He also served as a judge at an English speaking competition.[13] He would remain in China for three years.[15] He has stated he enjoyed his time in China and wouldn't trade it for anything: "...However, I wouldn't trade it for anything. I lived there for three years and it was one of the greatest and most defining experiences of my life. You find out so much about another culture, about your own culture, and about yourself that you end up completely changing as a person. I'm extremely different than I was when I first went over there."[15] Owen's training to be a teacher, his class and time in China can all be fully read on his blog.
Eventually, while still in China in 2012,[12] he did a storyboard test[16] for Regular Show. They hired him and he moved back to the United States, returning to Minnesota briefly before going "on a five/six day drive" to California, where he would settle.[17] His first episode was "Last Meal".[18] Owen was aware of the show's existence, but had never seen the show before applying to be a storyboard artist. He did, however, see the original pilot and thought "this should be a show." Once Owen decided to apply, Toby Jones gave him "classic" episodes to watch as examples to aid him in the test.[19] He also took drawing lessons taught by Sean Szeles and Mike Roth in order to improve his ability to draw characters and scenes.[20]
In addition to his work on Regular Show, he has invented an, in his own words, "alien virtual band" named Galactaron,[21] making all the music for his creation. Galactaron was also accepted to air on the channels MTV 2 and MTV U.[22] He has a sister[9] and he is 5'10".[23] Owen is also an atheist.[22]
He resides in Los Angeles, California[21]. He created the pilot, Infinity Train, [3] which was later made into a TV series.
Boarded Episodes
Season 4
"Last Meal" (with Sarah Oleksyk)
"Party Re-Pete" (with Sarah Oleksyk)
Season 5
Season 6
Season 7
Season 8
Links
References
Regular Show Storyboard Artists