Doctor Strange in The Multiverse o Madness - The Loop
Play Sound
This article is under the scope of the Actor Cleanup Project and has yet to be cleaned up to a higher standard of quality. It may contain errors, spelling, grammar and structure issues, or inconsistent formats. Reader's discretion is advised until fixing is done.


You can help clean up this page by correcting spelling and grammar, removing factual errors and rewriting sections to ensure they are clear and concise, and moving some elements when appropriate.


Melanie Scott "Minty" Lewis[1] (born December 11, 1978)[2] is an American voice actress, storyboard artist, writer, and producer. She is known for her work on Regular Show, where she was a writer and storyboard artist, as well as the voice of Eileen.[3][4] Following the birth of her daughter, she decided to take a hiatus from storyboarding to care for her, while still voicing Eileen in the meantime.[5] Three seasons later, she made a surprise return to storyboarding with the season 5 episode, "Benson's Car", and has resumed her dual roles as storyboard artist and voice actress.[6]
In 2015, Lewis created a pilot entitled Bottom's Butte for Cartoon Network's shorts development project. As of 2020, Lewis is co-producing a new animated series for Fox titled The Great North, which will debut in January 2021.
Early life
Melanie Scott Lewis was born on December 11, 1978 in Falls Church, Virginia[2] and raised in McLean,[7] to her parents are Bob[8] and Judy.[9] She was also born one month overdue.[10] Her middle name was her great-grandmother's maiden name.[10] Her grandmother's maiden name was Bottom.[10]
She attended Langley High before attending[7] and eventually graduating in 2000 from Wesleyan University[1] in Connecticut, majoring in Anthropology.[1] The thesis she wrote in college was about fascism in Italian drama.[11] She later moved to Boston, Massachusetts. After living there for two years, she briefly moved back to Virginia before moving to San Francisco, California, and finally settled a year later in Berkeley,[12] before moving to Burbank after several years living in Berkeley.[13] Other locations Lewis has lived in include New York and even Sweden.[1]
Following college, she worked in the documentary filmmaking world by ordering tapes and transcribing footage. After doing this job for a couple of years, she decided to start taking classes in drawing and graphic design at the Massachusetts College of Art while still living in Boston. At around the same time, her then-boyfriend[11] was working on a comic to be published by Small Press Expo, and encouraged Lewis to submit something as well. It was the first comic she had ever drawn and, much to her surprise, it was accepted.[12] Before then, she worked for VIZ Media as a senior designer[1] and a graphic designer for the magazine, Shonen Jump.[14]
Career
P.S. Comics
It was here that she had discovered comics were a good fit for her. She would self-publish her mini-comic, entitled P.S. Comics No. 1 for Small Press Expo, and has continued this practice since.[12] A collection of her comics was published by Secret Acres and released in 2009.[3]
Reviewer John Porcellino enjoys Lewis' smart yet subtle sense of humor: "Minty's comix are smart without hitting you over the head - they have this great offhand subtlety to them that I love - and they're always laugh-out-loud funny. I always come away from them feeling like my perspective has been altered a bit, and that's a good thing ain't it?"[15] Another reviewer, Paul Constant, noted that while her comics can be amateurish and may not be suitable for new comic readers, he still recommends it to those that can see past those criticisms: "Some of Lewis' strips are a little amateurish, but they've still got a lot of charm. And the way they avoid mawkish sentimentality should really be a cause for celebration: Some of these terrier strips are really fucking poignant. I wouldn't recommend this for someone just getting into comics, but if you have a wide range of tastes and you're looking for something different, this is the book for you."[16] Jeremy Nisen of Osmosis Online praised Lewis for her award-winning P.S. Comics No. 3: "I feel like I owe a big favor to comic creator/cartoonist Minty Lewis. Because after 20+ years of reading comics from all types of genres, publishers, and creators, it was her P.S. Comics 3, which I picked up at the Alternative Press Expo in 2007, that left me gobsmacked with pure, unadulterated joy and mirth. It was a reminder of everything cool and special that comics could be. See, I'd just read about the office-based misadventures of some rather melodramatic, pathetic anthropomorphic fruit. And fruit with eyes and hands and stuff is funny."[17] Other reviews of Lewis' works can be read here, here and here.[18]
For her work in comics, Lewis has also won an Ignatz Award, an award created to recognize achievements in comics, winning the category of "Outstanding Minicomic" with her comic P.S. Comics No. 3 in 2007.[12] She was also nominated for the 2011 Maisie Kukoc Award for Comics Inspiration for her comic Salad Days; she did not win the award, but her husband Damien Jay won it for his work on The Natural World #3-4.[19] Salad Days also placed #11 on Rob Clough's listing of "Top 25 Minis of 2010."[19] She would later serve as a juror at the 2012 Ignatz Awards.[20] Lewis wrote issue #13 of the Regular Show comic series in July 2014, returning to her comic-making roots.[21] The comic is about the character she voices on Regular Show, Eileen, being recruited to help Mordecai and Rigby decorate the park for the annual park party, but many things go awry: A small fire occurs, three children go missing and a blimp crashes. Things get even worse and all this occurs before the party even starts.[22] The issue was released on July 30.[23][24]
Regular Show
Eventually, Calvin Wong gave Regular Show creator J.G. Quintel a comic of hers and Quintel hired her, based on her sense of humor. Lewis explains the story of how she was hired: "J.G. [Quintel] asked if I would be interested in taking a storyboard test after he read some of my comics. I thought the name 'J.G. Quintel' sounded suspiciously spam-like, but once I [was] confirmed that it was the real deal, I was really excited about the opportunity. Some might say a little too excited. So I took the test and then I waited three long months before I got a call asking when I could start. I think it was about a month later that I went down to Burbank and started working as a storyboard artist/writer. I was pregnant the whole time I was working there and when the show went on hiatus last October [article written May 18, 2012], I decided to move back to Berkeley to give birth, etc. Much to my surprise, I got a call a few weeks later asking if I would be interested in doing the voice for the Eileen character since they had liked my voice so much in the pitch for "Do Me a Solid." Obviously I was interested, so now I fly down to Burbank every month or two to record for Eileen."[25] Originally, Lewis was only hired to be a storyboard artist, but Quintel thought her voice was the perfect fit for a character Lewis pitched and created, Eileen: "...Minty's voice, just her natural voice, was so perfect for that character! She [wrote] one of the very early episodes with Eileen in it and she had some really funny jokes in the way she pitched it. [It was] just the way her voice sounded – she [had] to be that character! We even tried an actor, but it just wasn't playing funny. [So] we were like, OK, let's see if Minty wants to do it. She said yes and it really worked out. It's a great character and [Minty's voice] totally fits that character's personality."[26] Minty's side of the story of how she became Eileen can be read in this section.
Voice credits
When asked how it was like to be the voice of Eileen, Lewis describes: "Well, getting to be the voice of Eileen was pretty crazy."[27] J.G. Quintel continues with: "Oh, that's [Lewis' voice] so awkward. But, that was just her voice, that's just how [pitching Eileen's quotes] she did it. We were like, 'You wanna be Eileen? You gotta be Eileen.'"[27] A more thorough explanation of how Lewis became Eileen can be viewed above.
Because Lewis is not a working voice actress, she rarely voice acts on other shows. She did, however, provide the voice of Miss Waddles in It's A Toy's Lyfe, which aired on Channel 101,[28] and provided the voice of Erin the caterpillar in the Adventure Time episode "Food Chain."[29] When asked how Lewis won the role, she replied with: "That was really fun! Having never done any voice acting besides Regular Show, I was very surprised to get a call asking me to do a voice on Adventure Time. They sent me the storyboard and it was just bananas.
Not only was the content like nothing I had ever seen before, but it didn't follow the typical format either since it was very, very rough and originally in Japanese [a vertical format, as opposed to the horizontal format of storyboards for American cartoons] and then translated. It seemed like they put a lot of trust in Masaaki Yuasa to make something amazing without really understanding what he was doing until he was done.
The recording session was pretty bananas, too. There were multiple steps of communication between Masaaki Yuasa, his translator, the director, and the actors, so it was kind of like playing telephone so I had no idea if what I was delivering was what was desired."[30]
This section may be incomplete
Season 2
Season 3
Season 4
Season 5
Season 6
Season 7
Season 8
Boarded episodes
Lewis began storyboarding on Regular Show in the summer of 2010, during production of season 2.[31] She storyboarded her episodes with Kat Morris, becoming the first official all-female storyboarding team, with the episode "But I Have a Receipt".[4] Morris previously worked on "Brain Eraser" with Shion Takeuchi, but Takeuchi was uncredited.[32] Together, they would write four episodes before Lewis took a hiatus from storyboarding to raise her then-newborn daughter.[5]
When asked who her favorite character to write for is, Morris added Eileen as a favorite and loved the way Lewis wrote the character: "...I'm also really attached to Eileen because Minty Lewis and I worked hard to make her kind of a weirdo. Minty was a lot better at writing her, but I feel like I have to carry the torch and keep Eileen quirky."[33] Minty also offers her side of the story on how she and Morris helped create the basis for Eileen: "Well, I've always thought Eileen was 'The Best', because that's what I wanted her to be since her first major appearance in "Do Me a Solid." When Kat Morris and I first got that outline, there was very little information about Eileen. All we knew was that she was a girl that Rigby wasn't into, so we had a lot of freedom to in building her out.
I tend to go for the weird, so I put that sea turtle line in there and even Kat was like, 'OK, I guess you can pitch it and see what they say', sans confidence, but I don't know if I've ever had any material more enthusiastically received in the entire time I've been at Regular Show.
It was two or three seasons before I wrote any further Eileen dialogue besides what's in "Do Me a Solid" and "A Bunch of Baby Ducks" though, so at this point just about everyone on staff has had a hand in making her who she is today."[30]
Three seasons later, Lewis made history: becoming the first storyboard artist on the show to stop actively storyboarding but later returning. As former partner Morris had left the show the season before, Lewis was in need of a new partner.[34] She was paired up with Calvin Wong, the person that helped hire her in the first place.[26] They started on the episode "Benson's Car".[35] A full list of Minty's written episodes is listed below.
Season 2
Season 5
Season 6
Season 7
Season 8
Personal life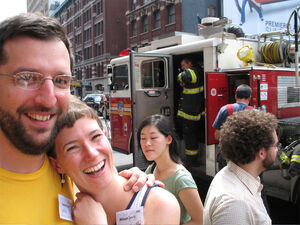 In her free time, Lewis continues to make comics and writes scripts.[3] Lewis has stated her artistic inspirations are Charles Schulz, Lynda Barry, Michael Kupperman, Gary Larson and Ted Stearn.[12] Lewis' favorite movie is Pee-Wee's Big Adventure.[10] She is also a vegetarian, having been one since she was 11.[36]
She came up with the nickname "Minty" after signing off an email with "Your pal, Minty"; the nickname stuck, to the point where some addressed her as such in real life. Beforehand, she signed emails using other aliases such as "Janet", "Corky", "Lisa", "Renee", "Taco" and more.[12]
She has been married to fellow artist Damien Jay. Together they have a daughter, named Sally, who was born on January 26, 2011 at 9:59 AM, weighing 7 1bs and 8 oz at birth, and a son.[4] Lewis is also the youngest of four children, having two sisters and one brother,[2] named Elaine,[37] Meredith[37] and Cam, respectively.[38] Lewis also has a sister-in-law and niece from her brother.[39] Along with her husband and daughter, she also owns one dog and one cat.[3] She also owned a yorkie named Lucy Fourpaws, who is now deceased.[36] One of her sisters has a son, who is a cancer survivor, having beaten leukemia after going through chemotherapy.[40] Other nephews include Graham,[41] Oscar,[41] Cooper[42] and a step-nephew, Eston.[42]
External links
References
Regular Show Voice Actors
Regular Show Storyboard Artists