"Maellard's Package" is the twenty sixth episode of Season 7 of Regular Show (and two hundred and seventh overall) It aired on April 23, 2016.
Synopsis
The duo wait for a delivery at Maellard's mansion.
Plot
TBA
Characters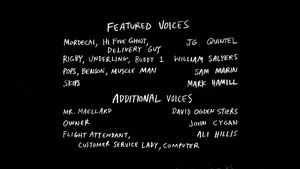 Starla (mentioned)
Celia (mentioned)
Flight Attendants
Buddy Bohn-Mi Employees
Delivery Man
Customer Service Worker
Guard Dogs
Trivia
The player piano in Maellard's Mansion is playing "The Entertainer", a well known composition by Ragtime composer Scott Joplin.
When Mordecai and Rigby wait for Mr. Maellard's package, they smell something amazing and they follow it through Mr. Maellard's gate and see a Buddy Banh Mi foodtruck. Bánh mì is a Vietnamese's sandwish.

However, the truck misspells it as "bahn mi".

This episode reveals Mordecai dreams of having his own airline.

As a result, this episode may take place before the movie, as Mordecai is beginning to consider leaving the park.
Goofs
When Mordecai is flying the plane, his headset has a microphone attached to it. Though after approving his logo designs, it disappears. It returns again when the crowd is chanting Mordecai's name.
Reference