"Just Friends" is the thirteenth episode of Season 7 (and one hundred and ninety third overall) of Regular Show.
Synopsis
Mordecai and Margaret hang out after Rigby and Eileen go to Don's black-belt ceremony.
Plot
Mordecai, Margaret, Rigby, and Eileen plan to hang out until Rigby's father calls Rigby reminding him to go to Don's black-belt ceremony, which Eileen accompanies him, forcing Mordecai and Margaret to hang out alone, which due to events of "Not Great Double Date", where Margaret admits her feelings to Mordecai, things become awkward. They go to many places, and by coincidence, the settings become romantic right when they arrive. This causes Mordecai to take Margaret somewhere else before it gets more awkward. They end up going to a restaurant called Mr. Yakihana-Sama, where they meet and old man called Daisuke, who assumes they're a couple and serves them romantic dishes (Like heart-shaped steak). He then uses onions to show them their future together as a couple. It is revealed that if and when Mordecai and Margaret get back together, they will get married, buy a houseboat, and have children that will support them into old age, finally dying peacefully after 50 happy years. Afterward, Mordecai and Margaret agree that it would be best to remain just friends, ending the episode.
Characters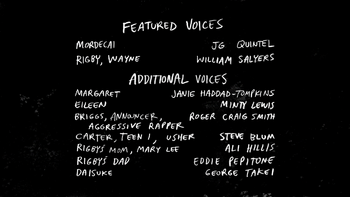 Rigby's Family
Wayne
Mallory (Character of the future)
Marry Lee (Wayne's Wife)
Trivia
Mordecai and Margaret visit few of the places he went to with CJ, in Yes Dude Yes, including the laser tag and the racecar track.
This episode has the same title as Star vs. The Forces of Evil Season 2's "Just Friends".
References
Community content is available under
CC-BY-SA
unless otherwise noted.