This article is under the scope of the Actor Cleanup Project and has yet to be cleaned up to a higher standard of quality. It may contain errors, spelling, grammar and structure issues, or inconsistent formats. Reader's discretion is advised until fixing is done.


You can help clean up this page by correcting spelling and grammar, removing factual errors and rewriting sections to ensure they are clear and concise, and moving some elements when appropriate.

James Hong (in traditional Chinese: 吳漢章, Wú Hànzhāng; born February 22, 1929)[1] is an Asian actor, a voice actor for Regular Show and a former President of the Association of Asian/Pacific Artists.[1][2] He has been acting for 60 years, having over 350 roles in film, television and video games.[1][3]
Early life
He was born in Minneapolis, Minnesota to his father, Frank W. Hong, a gangster and restauranteur, and his mother, being one of seven children.[4] Both of his parents were Chinese, as his father immigrated from Hong Kong to Chicago, Illinois from Canada, where he owned a restaurant. His grandfather was also from Taishan, China.[1][2] They soon moved back to Hong Kong for Hong's early education due to his father worrying they were losing their Chinese culture living in Minnesota.[5] They returned to America when Hong was 10 years old, despite Hong not knowing how to speak English at the time.[6] Hong would finish the rest of his education in America, graduating high school at Minneapolis Central High School.[1][2][7] In junior high school, he joined the drama club, which began his interest in acting.[5] Hong attended college at the University of Minnesota, where he studied civil engineering, before continuing his education at the University of Southern California, graduating in 1953.[2][8] While in Minnesota, he was called to serve in the Korean War; he resumed his studies once returning.[4] During his time at USC, he performed stand-up comedy during intermission at school programs; he later created a comedy team with a fellow comedian, Donald Parker, calling themselves Hong & Parker. Due to a lack of opportunities at the time for comedians, the duo broke up the comedy team to pursue other endeavors.[5] In his routine, he did impressions, and he eventually became so noticed that he appeared on the game show You Bet Your Life.[5][9]
Career
After college he worked as a road engineer for the Los Angeles County road department, where he built curbs and gutters; he eventually started developing an interest in acting and started taking classes with Jeff Corey. He remained as a road engineer while acting whenever he was on vacation or took a sick day. He eventually quit engineering to act full-time.[1][5]
His first acting role was portraying a soldier in the film Soldier of Fortune.[5] He then acted in the films Blood Alley and Love is a Many Splendored Thing.[5] He also provided voices for the original Godzilla.[5] He is well known for portraying David Lo Pan in the film Big Trouble in Little China.[2] He also auditioned for the role of Sulu on Star Trek: The Original Series but did not win the role.[2] He has also appeared in the films Blade Runner as Chu, Chinatown, Balls of Fury and Wayne's World 2.[4][9] He has appeared in the television films Missiles of October, Pueblo, Sunshine, Vanished and Earth II.[10] On television, he has appeared on the anthologies CBS Playhouse and Playhouse 90, as well as Hawaii Five-O, Chicago Hope, Seinfeld and M*A*S*H.[6][9][11][12] He has also dabbled in voiceover, providing the voice of Chi-Fu in Mulan, Daolon Wong in Jackie Chan Adventures, Professor Chang in Teen Titans, Mandarin in Super Robot Monkey Team Hyperforce Go!, Tashi in Avatar: The Last Airbender, Lo Mein in Chowder, Bucky in Archer and Ho Chan in the Teenage Mutant Ninja Turtles 2012 series.[13] More recently, he provided the voice of Mr. Ping in the Kung Fu Panda series.[13] He also co-directed the film The Vineyard with Bill Rice, a film which he also co-wrote and starred in.[2][14]
Voice credits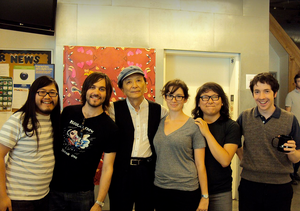 This section may be incomplete
Season 3
Season 7
Season 8
Personal life
Hong is a Presbyterian, having attended the cathedral Westminster Presbyterian as a youth.[2][4] Hong also worked as a pantry boy at the Nankin Cafe, a restaurant.[8] He has a daughter, named April, who like her father is also an actress, and also provides the voice of Hao in King Fu Panda: Legends of Awesomeness, a show which her father also works on.[2][15] He and his daughter work together at the Hong Acting Workshop.[16] He also co-founded the East-West Players, an organization created to help Asian actors be heard and be cast in films. He created it due to the racism and discrimination he received during his early days in Hollywood, and did not want anyone else to go through with what he went through. He co-founded it alongside other Asian actors, such as Mako.[4][5][9] The history of the East-West Players is fully told in the book Asian American Culture on Stage: The History of the East West Players.[17] He resides in Hollywood, California.[18]
External links
References
Regular Show Voice Actors
Community content is available under
CC-BY-SA
unless otherwise noted.