She-Hulk Trailer Dropped - The Loop
Play Sound
This article is under the scope of the Actor Cleanup Project and has yet to be cleaned up to a higher standard of quality. It may contain errors, spelling, grammar and structure issues, or inconsistent formats. Reader's discretion is advised until fixing is done.


You can help clean up this page by correcting spelling and grammar, removing factual errors and rewriting sections to ensure they are clear and concise, and moving some elements when appropriate.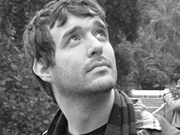 Jake Armstrong was a storyboard artist for Regular Show. He grew up in Norman, Oklahoma, where he attended a college, and was "constantly switching majors",[1] one of which was a scenic design major.[2] He eventually decided to leave this college and move to New York to attend the School of Visual Arts,[2] where he would eventually graduate in 2009.[3][4]
Armstrong has worked for such companies as Cartoon Network, Nickelodeon, Laika, Blue Sky, Augenblick, Buck, Hornet, Psyop, Blacklist, Mixtape Club, JWT, Brand New School, Charlex, Shilo and Transistor.[4] In addition to his scholarships, he interned on Superjail![5] and worked on The Marvelous Misadventures of Flapjack with J.G. Quintel. Other shows he has worked on include Robotomy, T.I. & Tiny: Holiday Hustle, Yo Gabba Gabba and Ugly Americans.[4] He has also made two short films, being The Terrible Thing of Alpha-9! (2009) and Mountain Ash (2013).[4] Armstrong also worked on the video game Dante's Inferno.[1] He resides in Brooklyn, New York,[6] where he works for Late Night Work Club.[7] Armstrong has also recently pitched a show idea.[8]
Boarded Episodes
Season 1
Links
References
Regular Show Storyboard Artists