This article is under the scope of the Actor Cleanup Project and has yet to be cleaned up to a higher standard of quality. It may contain errors, spelling, grammar and structure issues, or inconsistent formats. Reader's discretion is advised until fixing is done.


You can help clean up this page by correcting spelling and grammar, removing factual errors and rewriting sections to ensure they are clear and concise, and moving some elements when appropriate.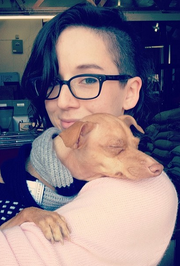 Hilary Florido (pronounced Floor-e-dough)[1] (born September 9, 1984)[2] was a storyboard artist for Regular Show. She first graduated from Wilton High School[3] before attending college at the School of Visual Arts in 2007, graduating with a bachelor's degree in Cartooning.[4] She also attended Kanagawa University beforehand.[3] She also has a twin sister named Sarah.[5]
When asked how she got hired on Regular Show, Florido replied: "I had just finished a book and was growing weary of office temping where I was doing payroll for a large IT company. I was doing occasional freelance work when Calvin Wong told Jon Vermilyea who told me that I should take a storyboarding test for Regular Show."[6]
Florido is largely influenced by manga and stated her uncertainty of working with others at first: "There's a big manga influence in my comics that's not present in my animation work. The composition is different. I've had to get used to writing on a 6 panel grid as opposed to using layouts like diagonal panels. Animation is more linear than comics. Also, it's really nice to be able to work with others. At first, I was hesitant on that score but now it's nice to be able to collaborate and bounce jobs off of each other. Most of all it's taught me to take criticism and be less precious about my comics."[6]
In addition to her work on Regular Show, she also released a graphic novel titled Bloody Chester in 2012.[7]
She left the show to work on Steven Universe after production of season 5 ended, with her final Regular Show episode being "Tent Trouble".[8][9] She resides in Los Angeles, California.[10]
Boarded Episodes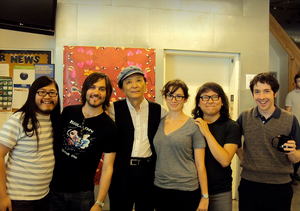 Season 3
Season 4
Season 5
Links
References
Regular Show Storyboard Artists
Community content is available under
CC-BY-SA
unless otherwise noted.