This article is under the scope of the Actor Cleanup Project and has yet to be cleaned up to a higher standard of quality. It may contain errors, spelling, grammar and structure issues, or inconsistent formats. Reader's discretion is advised until fixing is done.


You can help clean up this page by correcting spelling and grammar, removing factual errors and rewriting sections to ensure they are clear and concise, and moving some elements when appropriate.


Hellen Jo was a storyboard artist and revisionist for Regular Show.[1]
Jo worked as a storyboard revisionist for nearly a year; later, she boarded four episodes with fellow newcomer Sarah Oleksyk,[2] before returning to revisions. She would eventually leave the show to work on Steven Universe.[3]
When not storyboarding, she works on her comics, and is currently working on the second issue of Jin & Jam.[4]
She resides in Los Angeles, California.[5]
Boarded Episodes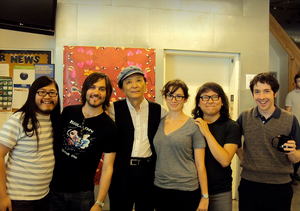 Season 4
Links
References
Regular Show Storyboard Artists
Community content is available under
CC-BY-SA
unless otherwise noted.