Jurassic World: Dominion Dominates Fandom Wikis - The Loop
Play Sound
This article is under the scope of the Location Cleanup Project and has yet to be cleaned up to a higher standard of quality. It may contain errors, spelling, grammar and structure issues, or inconsistent formats. Reader's discretion is advised until fixing is done.


You can help clean up this page by correcting spelling and grammar, removing factual errors and rewriting sections to ensure they are clear and concise, and moving some elements when appropriate.

Dumptown USA is a mysterious paradise where men go when they get dumped. It was featured in the episode, Dumptown USA.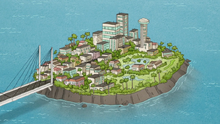 Location
Dumptown is an island located in the middle of nowhere. The only way to get there is to get dumped and Sad Sax Guy comes to take you to the island.
Population
The island is located by a number of people. Everyone who lives there wears a robe, shorts and is usually seen with long hair. Everyone lives in luxury houses although they are a mess on the inside.
Places
Dumptown Deli
Table for One Buffet
Public pool
Battery Hut
Dumptown Inhabitants
Benson (when on vacation)
Mordecai (formerly)
Rigby (formerly)
Sad Sax
Mordecai's roommates
Other civilians
Rules
The new guy must get the food.
You have to get dumped to enter the city.
Trivia
Benson has been there four times.
Getting dumped is the only way to get in.
It's motto is, "Paradise for the Heartbroken".
They own a buffet called the "Table for One Buffet", where one person sits per table.
Various activities include, shuffle boarding, water parks, volleyball, beach side relaxing.
Everyone who lives there has their own saxophone which they practice every day.