"Deez Keys" is the thirty-fifth episode of Season 7 of Regular Show (and two hundred and sixteenth overall) It aired on June 23, 2016.
Synopsis
A search for Benson's car keys leads Mordecai and Rigby to make a deal with scientists.
Plot
TBA
Characters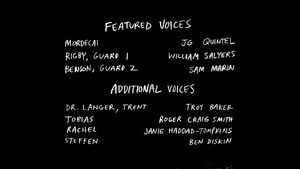 Dome Scientists

Trent
Tobias
Rachel
Steffen
Trivia
Pop Culture References
The title "Deez Keys" may be a reference to the popular vine and meme "Deez Nuts".
The area that Mordecai and Rigby get chased in by the giant planet is a reference to the 1984 arcade game "Marble Madness".
The first lines of Rigby's rap in the beginning of the episode are similar to the first lines in the song "Eazy duz it" by late rapper Eazy-E.
Goofs
When Mordecai was asking the scientists for help, the scientist who said "maybe but no" had a granola bar that was partially eaten but in the next scene it was a whole bar.
Reference
Community content is available under
CC-BY-SA
unless otherwise noted.