Jurassic World: Dominion Dominates Fandom Wikis - The Loop
Play Sound
"Cube Bros" is the twenty fifth episode of Season 7 of Regular Show (and two hundred and sixth overall) It first aired on April 16, 2016.
Synopsis
Muscle Man gets a job in a corporate office.
Plot
The episode begins with a normal park meeting. Benson tells everyone what they have to do and Muscle Man has the worst and heaviest jobs. On the next day, Benson assigns Muscle Man more hard work, to which he objects. However, Benson tells him that these jobs should be easy on account of his strength. Muscle Man takes offense to this, claiming that he's as smart as he is strong. With this he quits his job at the park to work at an office job (Mordecai, Rigby and Skips doubting his ability while High Five Ghost objects to him leaving). Muscle Man soon applies for a job at a company known as Omnitech. At first, the company's office manager refuses to offer him a job, but after Muscle Man helps him open a pickle jar he changes his mind. Muscle Man is placed in the office of former employee, Ron. However, after a few hours Muscle Man finds his new job dull and boring. He then hears 3 employees laughing in their cubicles. Muscle Man meets the 3 who introduce themselves as Randy, Andy & Gill (All 3 of them having strange similarities to Mordecai, Rigby and HFG). The 3 of them doubt Muscle Man has the skills to replace Ron, causing him to study hard in the field of data ethics. The next day, Muscle Man has fully learned the basics.
Characters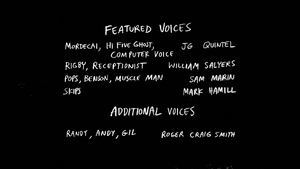 Video
Trivia
Episode Connections
Pop Culture References