Jurassic World: Dominion Dominates Fandom Wikis - The Loop
Play Sound
"Chili Cook-Off" is the nineteenth episode of Season 7 of Regular Show (and two hundredth overall) It aired on March 5, 2016.
Synopsis
Benson wants to get some street cred with the Park Managers' Association and win the big chili cook-off.
Plot
At the Park Managers' Lodge, Gene announces the annual Chili Cook-Off, with the winner receiving the undivided respect of the entire lodge. Benson decides to enter.
Benson returns to the park and asks Mordecai, Rigby and Skips to taste test his chili, but it's not good enough to beat Gene. Benson wishes he could get his hands on a Jade Phantom Pepper, a rare pepper that he discovered when he studied abroad in Venezuela, the pepper is said to be spicy and sweet with hints of lavender, but Benson can't use it since it's too expensive, costing $20,000 in the states.
Benson constantly asks Mordecai and Rigby to taste test his chili recipes until he can beat Gene.
The next day, the competition is judged by celebrity chef, Sean-Ben Pimento. Pimento seems to like Benson's chili, but as Rigby points out, he also likes Gene's, Benson asks Mordecai and Rigby to get some of Gene's chili, and they do, loving the spicy and sweet taste with hints of lavender, Benson tries the chili himself and realizes one of Gene's ingredients is the Jade Phantom Pepper. Pimento names the 2 finalists as Gene and Andrew Aaronson, but it's discovered that Andrew Aaronson's chili ingredients cost $51.20, breaking the $50.00 limit for the competition and getting Andrew Aaronson disqualified for being overbudget, Pimento names Benson as the replacement finalist, but when Benson tries to expose Gene, he is humiliated since he has no evidence.
Benson sneaks into Gene's office to find the Jade Phantom Peppers that Gene used, he finds a financial planner showing $2,000,000,000,000 expenses for the lodge, which is how he is able to afford the peppers. Benson finds the stems for the Jade Phantom Pepper, but is caught by Gene, Benson plans to expose Gene, but finds that Gene grows the Jade Phantom Peppers himself, technically getting the peppers for free.
That night, Benson, Mordecai and Rigby go out for hot wings and Benson needs to think of a way to win the competition, he realizes he needs to come up with an ingredient that has never been put in chili before and gets an idea.
At the competition, Gene and Benson make their chilis, with Benson using hot wings in his chili, but when the time starts to run out, Benson runs out and has to grab more, but his apron gets stuck, forcing Benson to kick one final wing into the pot to knock it over into the bowl. Pimento is impressed by Gene's chili and is also impressed by Benson's as well, but when he tries a second bite of Benson's, he nearly chokes on a chicken bone and pushes Benson's chili away.
Pimento compliments Gene's and Benson's chili in the final judging, but is disappointed with the chicken bone in Benson's chili, but in spite of that, he names Benson the winner. Benson is congratulated by everyone on his victory and earns the respect of Gene.
Characters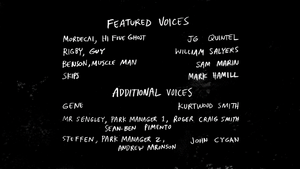 Videos
Trivia
It was first set to air on December 3, 2015, but it was pulled and was replaced with "Snow Tubing".
It is revealed that East Pines is one of five shell companies, along with Cheezer"s, Jim Bros Burritos, Playco, and Tants Inc.
It's revealed that Gene spent 2 trillion dollars of the Park Managers' Lodge's money on something.
It is revealed that Gene owned jade phantom peppers when he was a child.
Benson is revealed to have studied abroad while in collage.
Episode Connections
Benson finds a picture of Gene, Mr. Maellard, and Dr. Dome, the main antagonist of "The Dome Experiment."

Which shows that Gene might have had some connection to the events of that episode.

The episode is a sequel to the Season 6 Episode "Park Managers' Lunch."
Pop Culture References
Chef Sean-Ben Pimento is based on a real life chef, named Chef Ron-Ben Israel, an Israeli-American pastry chef known for his cooking competition TV show, Sweet Genius aired in Food Network ( September 22, 2011 - January 24, 2013) and currently a judge of another cooking competition TV show Cake Wars also aired in Food Network.
Production Notes
This is the first Regular Show episode to air in 2016.
Goofs
You can see the episode's errors here: https://www.youtube.com/watch?v=E7RvvQnHcII
The total price on Andrew Aaronson's receipt is incorrect. If one does the math, the real total price on Aaronson's receipt is actually $50.20, which is $1 under what was shown and announced.
Gene's wife is colored green in the pictures, even though in "The Christmas Special" she is colored red.