This article is under the scope of the Actor Cleanup Project and has yet to be cleaned up to a higher standard of quality. It may contain errors, spelling, grammar and structure issues, or inconsistent formats. Reader's discretion is advised until fixing is done.


You can help clean up this page by correcting spelling and grammar, removing factual errors and rewriting sections to ensure they are clear and concise, and moving some elements when appropriate.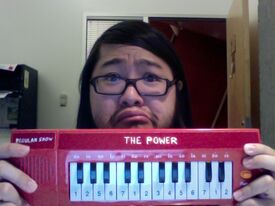 Calvin "Cal"[1] Wong is a writer/storyboard artist and current supervising director for Regular Show. Cal is an illustrator and comic artist from the San Francisco Bay Area. His work has seen print in the East Bay Express, the Lavapunch comics anthology, and the Missed Connections and Bridge Project anthologies. On the web, his work has appeared on the frontpages of XIP, Retrocrush, Somethingawful, and creativeskin. Originally, Cal worked at Keynote Systems as an engineer and in Silicon Valley as web developer at National Semiconductor before getting paid to do what he loves, making cartoons.[2] Wong was also nominated for an Ignatz Award, an award created to recognize achievements in comics, being nominated for his work on the comic Ramble On 2 in the category of "Outstanding Minicomic" in 2012.[3]
He was hired on Regular Show when Cartoon Network picked up his comics and offered him a storyboard test.[4] He started his first day of work on December 21, 2009.[3]
Regular Show creator J.G. Quintel thought Wong's comics fit Regular Show's sense of humor just right: "It [Wong's comic Ramble On] felt really up the alley of Regular Show. I contacted him and asked him if he wanted to take a [storyboard] test to see if he would even like it. I gave him some links to the show, so he checked it out, took the test, and [it] was funny. He was able to draw the characters relatively well and he was able to get the style right. The tone felt in the ballpark. So [then] he [started as] a revisionist and we got to train him up. You gotta realize that comics don't have the same rules as animation. Like, [with comics] you can break the 180 line, you can move around and you can show whatever you want and it makes sense. But with TV there's some concrete rules we have to follow. So we trained him on all those things and that was all just the drawing side of it."[5]
Eventually, Wong would be hired to be a storyboard artist, beginning with the episode "It's Time" with writing partner Benton Connor, a partnership that would last for thirteen episodes.[3] Wong explains how he feels about working on the show: "It's been a culture shock fer sure-- for one, I can't get over the fact that people are paying me cash monies [sic] to draw, and for two, it's impossible to get a decent banh mi [Vietnamese sandwich] in Burbank!"[2]
When asked if he was given the opportunity to work on a more adult version of Regular Show, he stated he doesn't mind the limitations the show has: "In a perverse way I like the limitations writing for ostensibly a 'kid's show' [has] put on me. That makes the under the radar stuff that much more outrageous & satisfying. Did you watch [the] Ren and Stimpy Adult Party cartoon? Making those characters more edgy and adult didn't make them better, in fact that completely ruined them for me."[6]
For the episode "Return of Mordecai and the Rigbys", he played guitar, wrote and sang the song Keeping it Cool, where an instrumental version can be heard briefly in the episode while the band is practicing. He also provided a grunge song for the episode.[7]
In addition to his work history, he attended[8] and graduated from UC Santa Cruz in 2000,[3] before graduating at the University of California, Berkeley, earning a bachelor's degree in Cognitive Science.[2] He also has two brothers, one named Raymond,[9] nicknamed Ray for short[10] and the other named Vic.[11] Calvin also knows how to speak Cantonese.[12] He also assisted a fifth grade teacher at a San Jose school, explaining the writing process of Regular Show to the students.[3] Calvin was also in attendance at a Conan taping, and participated in an audience segment where the host Conan O'Brien rates audience couture.[3]

He resides in California.[13]
Boarded Episodes
Season 2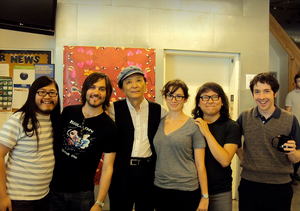 Season 3
Season 4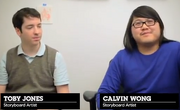 Season 5
Season 6
Season 7
Links
References
Regular Show Storyboard Artists
Community content is available under
CC-BY-SA
unless otherwise noted.