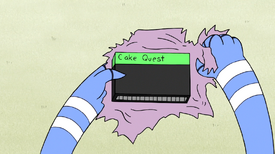 "Cake Quest" is a video game made by Rigby and Zaxon, and to an extension ZIPGIDZ in the episode "Birthday Gift" . You can play as either Mordecai or Rigby, and the game is so short you can play it in 5 seconds. While Mordecai found the game to be awful, he was touched that Rigby would make a game for him for his birthday present.
Gameplay
The characters that are playable are Mordecai and Rigby. The player starts with five lives and the object of the game is for Mordecai and Rigby to reach the cake by jumping over a log and jumping across a floating platform.
Gallery
Community content is available under
CC-BY-SA
unless otherwise noted.