This article is under the scope of the Actor Cleanup Project and has yet to be cleaned up to a higher standard of quality. It may contain errors, spelling, grammar and structure issues, or inconsistent formats. Reader's discretion is advised until fixing is done.


You can help clean up this page by correcting spelling and grammar, removing factual errors and rewriting sections to ensure they are clear and concise, and moving some elements when appropriate.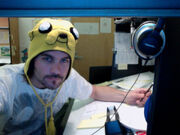 Benton Connor (born August 6)[1] is a storyboard artist for Regular Show. A graduate of CalArts,[2] Connor holds the distinction of being the only storyboard artist on the show to storyboard an episode in all eight seasons, and also storyboarded more episodes than anyone else with 62. Connor also helped storyboard the movie.
Regular Show
When asked how he was hired on Regular Show, Connor answered with: "I originally got my start at Cartoon Network by writing/storyboarding for Thurop Van Orman's The Marvelous Misadventures of Flapjack. J.G. Quintel was the Creative Director on the show and Mike Roth [Regular Show's Supervising Producer] was my first-ever writing partner at the time. Since they both knew my work from Flapjack, I was very fortunate that they called upon me to do [story]boards for Regular Show."[3] For his work on Regular Show, he has also been nominated for an Annie Award for his work in storyboarding.[4]
Since Regular Show wrapped production, Connor briefly worked as a storyboard artist on J.G. Quintel's latest show Close Enough, and is currently a supervising director on Apple & Onion.
Other work
In addition to his work on Regular Show, he also wrote and storyboarded for Adventure Time and as mentioned above, is an alumnus of The Marvelous Misadventures of Flapjack.[5] In 2012, Connor made a pilot titled Paranormal Roommates, though it did not become a series.[6]
Boarded episodes
Season 1
"Don" (with Kat Morris and J.G. Quintel)
Season 2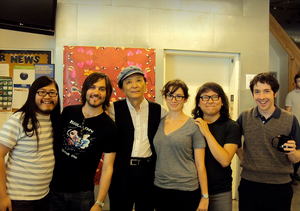 Season 3
Season 4
Season 5
Season 6
Season 7
Season 8
Links
References
Regular Show Storyboard Artists
Community content is available under
CC-BY-SA
unless otherwise noted.