This article is under the scope of the Actor Cleanup Project and has yet to be cleaned up to a higher standard of quality. It may contain errors, spelling, grammar and structure issues, or inconsistent formats. Reader's discretion is advised until fixing is done.


You can help clean up this page by correcting spelling and grammar, removing factual errors and rewriting sections to ensure they are clear and concise, and moving some elements when appropriate.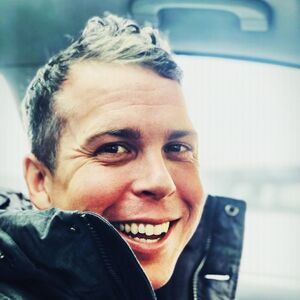 Ben G. Adams[1] was primarily a character designer for Regular Show.[2] Adams lived on a houseboat at one point.[3] He attended Galt High School before attending Sheldon High School, enrolling in animation classes[4] before graduating in 2004.[5] He eventually graduated college at CalArts, earning a bachelor's degree in Character Animation.[6] He has a brother, who is also an artist.[7] On Regular Show, he did a storyboard test, and once J.G. Quintel saw his test, he offered him the job of character designer, which Adams accepted.[5] He also helped storyboard a couple of episodes with Andres Salaff for season 3. Adams also worked on other Cartoon Network shows, such as The Marvelous Misadventures of Flapjack and Secret Mountain Fort Awesome.[8] He resides in Los Angeles, California,[9] and has recently pitched his show idea, Odyssey Squad, to Nickelodeon.[5] He recently left Regular Show at the end of Season 7 in December 2015 to storyboard a new show over at Disney Television Animation. He was replaced by Kacie Hermanson.
Boarded Episodes
Season 3
Links
References
Regular Show Storyboard Artists
Community content is available under
CC-BY-SA
unless otherwise noted.